Posted by Joshua Russell - February 11, 2007 |
News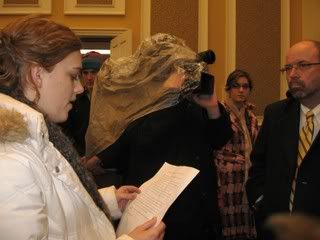 Athens, OH — February 2nd, 2007. The Ohio University campus has been rocked this year by a decidedly anti-democratic, unaccountable administration, pushing unpopular policies wthout any student input whatsoever. Free speech zones on campus attempt to shut out discourse and protest. Arbitrary fees around popular student parties and holidays, the sudden cuts of Athens Varsity Sports teams, and indulgent pay bonuses for Administrators have left students feeling alienated and without control of their college. Ohio University is being run like a corporation rather than an educational institution.
SDS has risen up to advocate for student syndicalism and a radical vision of a democratic university, and built an impressive coalition in the process. The SDS free speech demonstration on Friday, Feb 2nd, was attended not just by activists, but students most activists groups wouldn?t think to try to organize ? including athletes and Frat boys.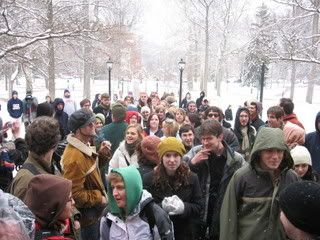 I was invited to come to OU in Athens by their SDS chapter and the umbrella activist group InterAct, to do workshops, trainings, and other action support, both as an SDSer and also as an organizer from Rainforest Action Network (RAN). Trainings with SDS ranged from sustainable organization building to campaign strategy, while I got to connect with InterAct about collaborating on a few RAN-related projects including shutting down a corporation called TXU building dirty coal fired power plants (but that is a separate entry entirely).
We woke the morning of the demo to a new blanket of snow coating the campus. It was beautiful. We met in a nearby coffee shop early to tie up loose ends. Somehow a PBS news crew found us an hour early and interviewed Olivia and Sarah.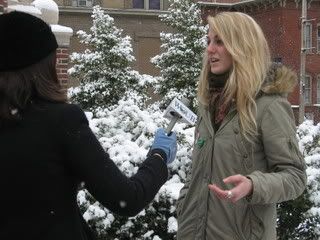 The snow was falling as students gathered around the civil war monument ? an area NOT in a free speech zone. A student read the plaque outside the monument – one that discussed liberties that we?re supposed to have in this country, and about 150 students gathered around the SDS banner hanging from the monument.
Initially, energy seemed low. Some folks didn?t even want to chant. I soon realized this was a good thing; about 90% of the people there had likely never been to a demonstration before. Despite the lack of racial diversity, in other respects the diversity of students there was staggering. SDS managed to mobilize a wide cross section of campus, including students with a wide range of interests and backgrounds – people who would have never come out to a demonstration if it werent for Athens SDS? strategy to simply be relevant.
After the president of the Graduate Student Union spoke, Will Klatt gave a speech about the corporatization of our universities:
( see video: )
http://www.youtube.com/watch?v=D6yrstQEac8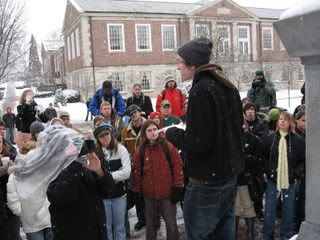 I was also invited to speak about Free Speech Zones:
( see video: )
http://www.youtube.com/watch?v=d8UqyFd_yiI
After which I convinced folks that chanting can be fun and it doesn?t make you a hippy:
( see video: )
http://www.youtube.com/watch?v=JYcsRGtxhuo
Rosemary Esch announced SDS? demands on the administration:
( see video: )
http://www.youtube.com/watch?v=gKzVC3lQ1dw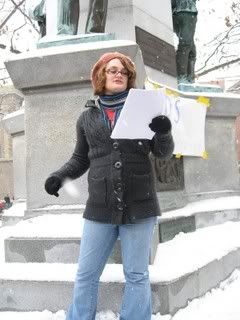 And Dylan spoke about SDS being inspired by Malcolm X and organizing students AS students: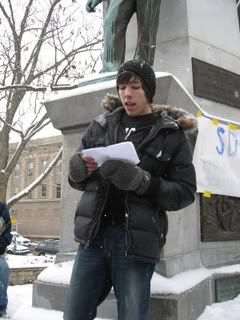 ( see video: )
http://www.youtube.com/watch?v=Fn2nY1J4nUw
People were fired up and marched to the presidents office. Energy was high, people were dancing and chanting and whoopin and hollerin.
We reached the chief of police and demanded entrance.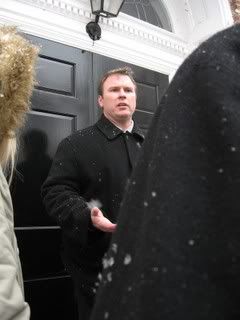 And got it.
The cop actually turned out to be a pretty nice guy. Most of his background in stopping ?civil disturbance? had been shutting down KKK rallies, so he seemed pretty down that we were actually trying to do something positive. Always important to remember to try to get inside the head of the police if you confront them – on campuses at least, they usually just don?t want to look bad in front of their bosses. If you can challenge their power and authority and get what you want, while still making it so they can play it off to their superior like they had control over the situation, then not only do you win and alter the power dynamics, but you usually eliminate the chance of arrest.
When we found out the president was in hiding, we decided to have a spokescouncil to see what to do next.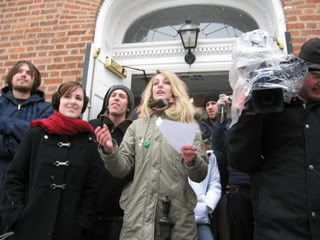 Strategically, it was useful for a lot of reasons. Not only did we want to democratically decide what to do next, but it helped all the participants in the demo – people with very different backgrounds and experience levels in activism – feel ownership over the march. Part of the strategy of the demo was to engage and activate people as much as possible. It worked (I?ll explain how in a minute).
( see video: )
http://www.youtube.com/watch?v=rhchlJCEyMk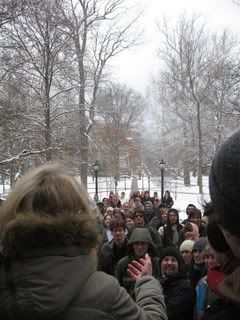 We decided to march to a meeting of Vision Ohio – where administrators were proposing additions for the campus to business leaders, without student input.
We danced:
( see video: )
http://www.youtube.com/watch?v=044vliYDgM8
And went inside the new student building and shook things up:
( see video: )
http://www.youtube.com/watch?v=S5z-6-Oe0Hc
And tracked down the Dean.
Search

NLN Videos

Archives




Categories




Additional Resources:

Syndication